GARDINER FOOD PANTRY
The Gardiner Food Pantry provides food to the local community. Supported by donations and operated by volunteers, the Gardiner Food Pantry distributes approximately 12 tons of food to the community each year.
The Pantry is open every Tuesday from 1:00 PM till 6:00 PM. You can come by for assistance, to provide a donation, to volunteer to help, or just to sit on the couch and enjoy some fellowship.
OPERATION CHRISTMAS CHILD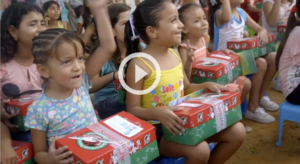 Operation Christmas Child is a project of Samaritan's Purse, an international Christian relief and evangelism organization headed by Franklin Graham. The mission of Operation Christmas Child is to demonstrate God's love in a tangible way to children in need around the world, and together with the local church worldwide, to share the Good News of Jesus Christ. Since 1993 Operation Christmas Child has collected and delivered more than 168 million shoe boxes to children in over 160 countries and territories. For many of these children, the gift-filled shoe box is the first gift they have ever received.